Hey guys
What a couple of weeks it's been! Thanks to all of you who have come out a braved the weather and come out to watch us on our headline tour. I don't know if it's the fact that christmas is in the air but, cold-ridden as we are, these shows have been the most fun we've ever had onstage. Reaction to the new tunes has been amazing, with 'Sunny Side of The Street' already teasing to be a future classic. Great stuff, thanks to each and every one of you. And thanks to our wonderful saxophone player Alex Bertein and our amazing soundman Matt 'P-Dog' Pengelly.
The fun isn't over yet however, there are three last shows in the UK in Birmingham, York and the re-scheduled Southampton show and we also have a modest European jaunt just before Christmas (yes, I know we're insane!). 
Dec 14, 2010 - YORK, (UK) @ THE DUCHESS
Dec 15, 2010 - Southampton, (UK) @ Talking Heads
Dec 16, 2010 - Koln, (DE) @ Sonic Ballroom
Dec 17, 2010 - Trier, (DE) @ Exhaus
Dec 18, 2010 - Romont, (CH) @ Hôtel de Ville -
L'APPEL S'TORE FESTIVAL
Dec 19, 2010 - Hazebrouck, (FR) @ Shaka Laka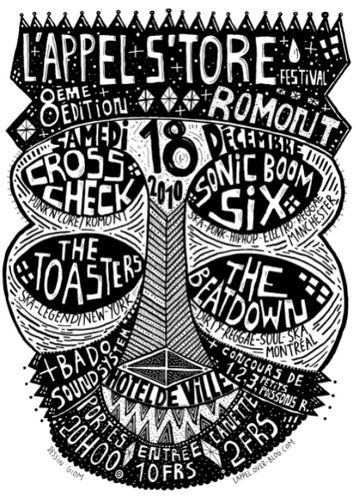 Christmas is coming, the goose is getting fat and all that. Why do I mention it? Oh, no reason really, but we've only got two new awesome t-shirt designs on the
STORE
that would make wonderful presents for a loved one. Or yourself even. The first is a white version of the classic Boom grenade shirt that would look lovely on a teenage skateboarder with shoulder-length hair. The other is a wonderful parody of the classic 2-Tone Walt Jabsco character but, in this case, he is re-imagined as a member of Mouthwash. It's a real talking-point! Come and check them out
HERE
. 
Get your orders in before the Monday 20th December for guaranteed Christmas delivery! (UK ONLY!)
There is a whole host of other goodies on there that would make beautiful gifts. Do you have a brother who gets cold easily? Buy him a hoodie. Do you have a friend who has always wanting 'The Ruff Guide To Genre-Terrorism' on vinyl? By them 'The Ruff Guide To Genre-Terrorism' on vinyl! It's the only way to prove your love.
Rightio! Off to Birmingham for tonight's show we go! Don't want to be late for soundcheck...
Until The Sunlight Comes!
Barney x